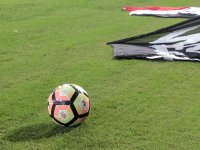 A lack of penetration against a 10 man Victory outfit saw the Wanderers take an unhappy point and kill their home final hopes.
The game reached no substantial heights, as the Wanderers stayed well on top of Melbourne Victory, who were reduced to trying to break on the counter. The Wanderers best chances came from Victory mistakes as they played out from the back, but Nichols, Jumpei & Santalab lacked composure in the final third.
Victory were reduced to 10 men early in the second half, as Daniel Georgievski was given his marching orders for a second bookable offence after 53 minutes for a stupid leaping tackle on Scott Neville. Although the defender got a piece of the ball, the tackle was lunge and he took a lot more of Neville than he did of the ball.
There were only 3 shots on target in the entire 90 minutes. From both sides combined.
The draw means the Wanderers have no chance of hosting a home final. The final round of the season will see if the Wanderers will travel to Brisbane or Melbourne City.
The final game of the season is in Adelaide next weekend.