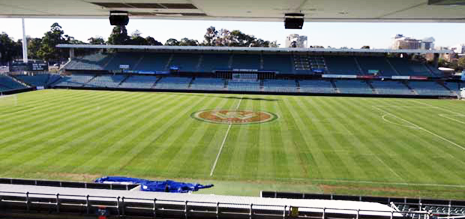 At a VIP studded press conference at Parramatta Stadium, the Western Sydney Wanderers CEO Lyall Gorman confirmed all home matches this season are to be played at Parramatta Stadium.
The list of special guests was long, it included the NSW Minister for Sports and Recreation Hon Graham Annesely, the Lord Mayor of Parramatta and the Mayor of Blacktown, members of Parliament and major leaders of Football in Western Sydney.
Parramatta Stadium has long been preferred as the single home venue for the club, and the club has signed a 5 year agreement with Events NSW to play at Parramatta Stadium.
Lyall spoke about how this supporter focus lead to the determination to complete the deal with Parramatta Stadium.
This website and it's members have maintained the "#NoToANZ" campaign since the inception of the club and we are proud to have been the catalyst for this decision by the club. Even as recently as last night the Red & Black Bloc were chanting "No To ANZ" and for it to be a reality is a testament to the ability of our supporters to get their message across passionately and sufficiently .
"The strong feedback from the in-depth consultation process we have undertaken through our various fan forums and surveys has told us strongly that Parramatta needed to be our home playing venue." Gorman spoke.
For more information and quotes please visit the Wanderers Official Website here.