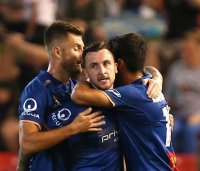 The Western Sydney Wanderers faint finals hopes have been snuffed out with another inept defensive performance that saw Newcastle score 3 times to cancel out goals to Rashid Mahazi & Keanu Baccus to run out 3-2 winners.
While Newcastle would have had a slim hope of making the finals even with a defeat, for the Wanderers it was simple, win or start preparing for next season. They began the first half very strongly, the midfield combination of Baccus & Mahazi dominating the Jets and setting up the likes of Baumjohann, Duke, Yeboah & Riera for numerous assaults on the Newcastle goal, that the visitors were unable to breach until right before the half-time break. A silly foul on the edge of the penalty area against Baumjohann let the attacking midfield swing in a cross in a corner like position, Newcastle completely ignored the run of Mahazi and he glanced a header into the net.
Newcastle adjusted in the second half and eventually equalised on the hour mark. A total lack of marking from Raul Llorente and Tarek Elrich let Roy O'Donovan pick up a ball inside the penalty area, he turned and aimed a sidefoot shot past Vedran Janjetovic.
Newcastle took the lead on the back of another dismal howler from Janetovic. Adding to his tally of schoolboy errors this season, from a Dimi Petratos corner fired straight into the near post, Janjetovic got his body position completely and utterly wrong, managed to do nothing more than punch the ball into the side netting.
Keanu Baccus continued his good season with a wonder strike not more than 4 minutes after going behind. A brilliant solo effort, picking up a layoff from Roly Bonevacia, the central midfield took two touches to aim in on goal before launching a rocket into the roof of the net giving Glen Moss zero chance at even touching the ball.
Both sides pushed for a winner and it ended up being Newcastle who scored it in the 82nd minute. A horror mixup on a ball that both Elrich & Hamill could have cut out resulted in the pair effectively tackling each other, the ball dribbled into the path of substitute Angus Thurgate and he lashed it homeward for a 3-2 win to Newcastle.
The Jets keep their slim hopes of a finals run alive, while the Wanderers are almost certain to finish in 8th spot behind Newcastle and in front of Brisbane & Central Coast.
Western Sydney play Sydney FC next week at Homebush Olympic Stadium on Saturday night at 7:50pm.