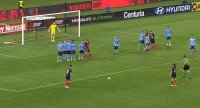 The last Sydney Derby of the Wanderers nomadic three year existence away from Parramatta ended in a 1-1 draw with a goal in each half.
In front of a 21,000 strong crowd, Sydney FC opened the scoring 7 minutes in. When Alexander Baumjohann and Keanu Baccus made a mess of possession in midfield, Anthony Caceres released Alex Brosque who fired a low left footed shot from the edge of the area past Vedran Janjetovic.
With the Wanderers looking the better of the two sides after half-time, the Wanderers equalised in the 57th minute. Baumjohann stepped up to take a free kick just outside the edge of the area after a Brandon O'Neill foul. Off a short run he blasted at the parted wall and it took a deflection off Adam LeFondre and beat Andrew Redmayne in goal.
Around the hour mark Baumjohann found Oriol Riera with a looping cross, the marquee striker rose for an uncontested header from point blank range but only nodded the ball onto the base of the post and away from goal.
Deep into stoppage time Giancarlo Gallifuoco delivered an outstanding cross into the middle of the area for Abraham Majok but the striker's touch took the ball over the bar, and he may have been offside in any case. The final action came from LeFondre as he curled a wonderful strike towards the top far corner only to have it tipped around the post by Janjetovic. The draw means that Perth Glory have one hand on the Premiers plate going into their match against Newcastle tomorrow, 
The Wanderers play Central Coast Mariners on Saturday 20 April in Gosford.
Edited by mack