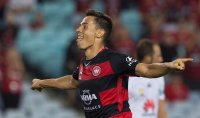 A smashing victory for the Western Sydney Wanderers tonight as they played a hapless Wellington Phoenix off the park in a 4-0 win.
Not even the final scoreline of 4-0 fully described the total exposure of the Wellington team. Chris Ikonomidis marked his starting debut with a man of the match performance and he was the catalyst for the opening goal after just 5 minutes. Ikonomidis weaved into the penalty area, was forced to ground but fought his way back up, the ball fell to Josh Risdon and his cross found Oriol Riera at the far post. Despite having to jump backward to get his head to the ball, Riera connected well enough that Wellington keeper Lewis Italiano couldn't tip it over the bar. Riera had another chance 5 minutes before the break but his attempt at glancing wasn't acute enough and it flashed past the near post.
Wellington's best chance arguably in the entire game came from a very late free kick in first half stoppage time, they got it over the wall but without the direction. Ikonomidis nearly had a well deserved goal in the 55th minute, after Bridge played him through on goal, the young winger chipped past Italiano only to have the ball cleared off the line by a Wellington defender.
In previous weeks the Wanderers had been fading out on the hour mark, but tonight 60 minutes saw them double their lead. Marcelo Carrusca fired a curling wicked corner into the 6 yard box, and up rose central defender Michael Thwaite to score his first goal for the Wanderers and just his 10th career goal.
If the second goal dampened the Wellington spirit the third goal for the home side broke it, and Ikonomidis finally had the goal to cap his performance. Running down the right wing he bamboozled Liberato Cacace the Wellington left sided defender, he cut inside and played a neat one two pass with Bridge sending it back via back heel, and his outside of the foot shot blasted past Italiano at the near post.
The humiliation was complete when Jaushua Sotirio picked up his second goal in as many games. Reira combined with Santalab playing back to goal he turned on the Wellington defence and fired at goal. Italiano palmed the ball away but only into the path of Sotirio, his return shot was weakly handled by the keeper who was perhaps slightly tricked by the curve of the shot and the ball trickled into the far corner.
The win puts the Wanderers back into the top 6, three points clear of the 7th placed Roar with upcoming games against the top 2 of Newcastle then Sydney FC being likely arbiters of the potential impact Josep Gombau's side can have in the final series.