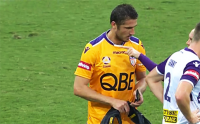 The Wanderers failed to take advantage of a poor Perth Glory side to draw 1-1 in front of the lowest home A-League crowd ever for the Wanderers.
The major piece of pre-game news was the loss for Perth of Diego Castro as he suffered an injury during the warmup. He was replaced on the bench by Jake Brimmer. For the Wanderers they were missing Brendan Hamill and Brendon Santalab, with Jack Clisby moving into central defence for the 2nd time this season.
Western Sydney opened the scoring in the 9th minute. Following a short free kick routing, the ball was cleared by the Perth defence but only as far as Keanu Baccus. The young midfielder fired in a wayward shot that fell to the feet of Bridge, he set himself to shoot on the turn, and perhaps with the aid of a deflection the shot flew past Liam Reddy at the near post.
Perth hit back instantly from the penalty spot. Joel Chianese was judged to have been cut down by Vederan Janjetovic after the striker got a touch onto a through ball. The replays were far from conclusive but the slight touch from Vedran to the knee of Chianese was enough for VAR to give it the green light. Xavi Torres sent Vedran the wrong way and it was 1-1 inside 15 minutes. Marcelo Carrusca could easily have won a penalty from an identical situation late in the half, but he elected to leap over Reddy and continue the attack.
In the dying moments of an abysmal second half there was a flurry of drama. Jaushua Sotirio was cut down in a one on one with keeper Reddy and after a VAR delay the card colour was changed from a yellow to a straight red for the keeper. Central defender Dino Djulbic was pressed into action as an auxiliary keeper and he saw Carrusca's free kick blaze over the crossbar. Despite 8 minutes of having a man advantage and a non-keeping keeper, the Wanderers hemmed and hawwed in the backline and couldn't even manage a shot on target.
Off the pitch the Wanderers decision to ban the RBB from the game resulted in the worst ever home A-League crowd for the club, with just 6,216 fans showing up, in a week where the club handed out hundreds of free tickets. Perhaps this will be a lesson to the club and the FFA to stop chasing the mainstream media and start accepting that football culture isn't going to always be the "family friendly" atmosphere in the AFL or NRL.
The Wanderers play Wellington on Sunday March 10 at Sydney Showground.