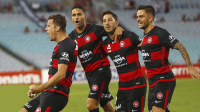 The Western Sydney Wanderers have kept their A-League finals hopes alive with a 3-0 thumping of a listless Brisbane Roar tonight at the Olympic Stadium, Homebush.
With Brisbane knowing a win would see them all but secure the 6th place in the finals their supporters would have been shocked at how poor their effort was. In just minutes the Wanderers had the opening goal. After some early pressure, Marcelo Carrusca won a foul deep in the corner, he took the resulting free kick and fired into the top of the penalty box. Oriol Riera met the cross with a thumping header that burst the back of the net. Alvaro Cejudo should have doubled the scoring a few minutes later when he was found by a Josh Risdon cut-back, but the marquee winger couldn't get past the keeper.
15 minutes in and Riera had his second and the Wanderers a big advantage. Chris Ikonomidis turned back onto his left foot, delivered a sumptuous cross that Riera met powerfully, Jamie Young pulled off a miracle save to keep the ball out of the net but all he managed was to drop the ball on the line for Riera tracking in on his shot to poke it over the goal line.
The 39th minute saw the Wanderers take a commanding lead with Ikonomidis going from provider to scorer. Riera was unlucky to not secure a hat-trick with Risdon firing across the face of goal with only perhaps a slight touch by a defender taking it off Riera's toes and preventing a tap in. Llorente ran down the ball, he bent in a cross with the outside of his foot that Ikonomidis attacked to knock it home.
With changed in the second half Brisbane were slightly better than in the first half but were completely outplayed by the Wanderers, as they peppered Young's goal again. It looked like the Roar had finally put a goal on the board in the 81st minute with a tap-in at the back post for Massimo Maccarone that was eventually overturned by VAR as Brett Holman was in an offside position then clearly interfered with the play.
The 6th place position is far from settled but the Wanderers will know what needs to be done next Sunday. Unlike most football competitions, the A-League does not have simultaneous kickoffs, with Perth and Brisbane both a point behind the Wanderers the result of their match on Saturday night will be vital, and should either side take all 3 points it will mean the Wanderers must defeat Adelaide.