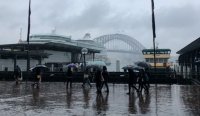 The Sydney Derby that was scheduled to be played tonight have been postponed due to torrential rain in Sydney.
After several days of intense rain, officials from the clubs, broadcasters and venue staff inspected the surface of the pitch this morning and a decision was made to cancel the game and reschedule it for an unknown future date.
Both the playing surface and conditions for spectators would have been treacherous, and with heavy rain and potentially lightning forecast for the afternoon & evening the decision was so easily foreseen it really should have been made last night.
The Wanderers next match is against the Newcastle Jets, at Parramatta on Saturday February 15, kick-off at 7:30PM.