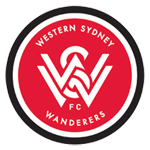 Nepean FC defeated 5-0 by Western Sydney Wanderers in the Wanderers inaugural match.
A nicely taken goal from Labinot Haliti was the first ever goal in Wanderers colours. 4 from Joey Gibbs did his claims for a full contract no harm and enabled the fledgling club to cruise to victory in the second half.
The first half opened to rapturous applause from a crowd I estimate to be 3,000 to 3,500 strong. An incredible result for the first ever match, and one that bodes well for future matches against higher tier opposition and into the A-League season itself.
Nepean were on the back foot for the entire half, with Haliti striking the woodwork on numerous occasions. One involved the ball cannoning off the upright only to land safely in the arms of the Nepean keeper. Bridge spurned several chances but that is excusable considering how rusty he would be. A one-on-one
Haliti's goal with 2 minutes to play in the half, in front of the Red and Black Bloc home end was the difference at half-time.
With major changes from both sides at the break, it was the Wanderers and their hungry trial players to make their mark. A procession of four goals all from Joey Gibbs killed the game off as a contest but it was never a complete rout.
Aaron Mooy dominated the midfield in what appeared to be a defensive holding position, spraying several long range accurate passes across field to find open markers. If he can stay injury free he looks like being the key to Wanderers and their finals hopes.
A great night for all. Thousands of people went home happy, the Red and Black Bloc began their role in the home end support with vigour and I'm certain many will be back for the next matches and those beyond it.