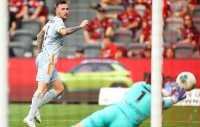 The Western Sydney Wanderers took a point from their clash tonight against the Brisbane Roar, following a disjointed performance punctuated by multiple injuries and a last gasp miss from Alex Meier that would have won the game.
Brisbane came into the game with a nearly unchanged lineup and one solitary point, their early performance in the game belied that position on the table as they took the fight to the table topping Wanderers. The Wanderers suffered an early blow when Pirmin Schwegler was taken off after suffering what looked to be a calf injury after 15 minutes. A half an hour of figurative push & shove came to an end as Daniel Georgevski's athletic effort from a Max Crocombe spillage was tipped over the bar by the Roar shot stopper, and at the other end Jay O'Shea blasted from a wide angle forcing Lopar into a double handed save that spilled back into the path of Roy O'Donovan, rebounded off the striker before being cleared away from a strike by Brad Inman.
Daniel Lopar earned his man of the match effort in no small part with a quick reaction save on his line early in the 2nd half. A 49th minute corner was whipped in to the 6 yard box, Macaulay Gillesphey nodded it toward goal, Meier was Alex on the spot to clear. Only as far as Daniel Bowles, and his point blank volley brought the best out of Lopar and the Roar couldn't believe they hadn't hit the back of the net.
Western Sydney's new attacking midfielder Nicolai Muller saw his first action in Australia, although his contribution was quite limited in effectiveness. Patrick Ziegler returned from his long injury break, as the Wanderers injury ward grew with the addition of Matthew Jurman as he came off after an injury, in the 80th minute. The Roar continued their graft, Stefan Mauk trying two long range efforts as full time loomed.
In the dying minutes it was the Wanderers marquee man Alexander Meier who should have broken the deadlock. Two minutes into stoppage time, Baccus managed to work the ball out to Georgevski, he found new man Muller, his cut back was perfectly placed for Meier, but with the crowd rising in expectation, Meier badly misjudged the flight of the ball, a tame effort that he couldn't even aim to either side of Crocombe, and with that the Wanderers sent the home crowd home disappointed with the first draw at the Western Sydney Stadium. Despite the draw the Wanderers remain top of the table & yet to taste defeat, 1 point ahead of local rivals Sydney FC although Melbourne City could draw level on Sunday.
The Wanderers face expansion side Western United next Saturday the 9th of November at 7:30PM, at the Geelong AFL stadium.