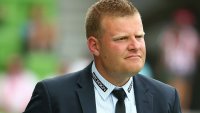 Josep Gombau has been appointed as the new manager for the Western Sydney Wanderers
After the shock exit of Tony Popovic, goalkeeping coach Zeljko Kalac and assistant manager Andres Carrasco, the Western Sydney Wanderers were flooded with applicants for the vacant managerial position. Reportedly Gombau was not the first choice for the boardroom, with Australian National team assistant manager Ante Milicic and German Dirk Schuster both being preferred, only to have the appointments fall through upon salary negotiations.
Gombauis no stranger to the A-League, having lead Adelaide United for the 2013/14 & 2014/15 seasons. He began his managerial career in a less than orthodox fashion, starting as a goalkeeper for Amposta in Spain before switching to coaching as a teenager. His first major appointment, at age 27, was as a member of the famous Barcelona youth academy La Masia.
Having served at Barcelona until 2009 he joined Kitchee United in Hong Kong for his first managerial role. He bought success to the club, winning multiple league titles & cup competitions. This bought the attention of the A-League, and he joined Adelaide United, leading them to victory in the inaugural FFA Cup, in 2014. After an apparent fallout with the Adelaide United board Gombau joined the Australian national team setup where he was nominally the U23 team coach, but was a key scout under the Ange Postecoglu regime. In this role he was seen scouting across Australia, with numerous sightings at Wanderers A-League games. Gombau can be expected to replicate his attacking possession football style that bought him Cup success at Adelaide along with a 43% winning record.
With the Wanderers ending their search for a manager, Gombau will be expected to push the side into the top 4 as a minimum result, and go on the hunt for silverware that has eluded the Wanderers since their Asian Champions League victory in 2014.