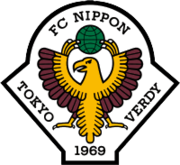 The Western Sydney Wanderers have lost the final game of their pre-season tour of Asian 2-1 against Tokyo Verdy this afternoon.
The Wanderers were punished for sloppy defending and wayward finishing, as they lost despite having the vast majority of possession and chances.
A strong, almost entirely first choice starting line-up for the Western Sydney Wanderers included Ante Covic, Jerome Polenz, Michael Beauchamp, Nikolai Topor-Stanley, Dean Heffernan, Iacopo La Rocca, Mateo Poljak, Youssouf Hersi, Shinji Ono, Mark Bridge & Tomi Juric.
It wasn't long before Tokyo hit the front, as they scored an usual goal directly from a corner. I'm sure Tony Popovic, Ante Covic and the rest of his defensive unit will be scratching their heads to ensure that never happens again.
Verdy doubled their advantage with a tap-in to their striker following a blocked shot. Tomi Juric then stuck the ball away only to be called offside, and the Wanderers followed that with Hersi, Polenz and Bridge all going close but not being able to penetrate the Tokyo defence.
At half-time Tony Popovic run the changes, with Tyson, Adam D'Apuzzo, Aaron Mooy & Brendon Santalab taking to the field. Despite the changes Western Sydney remained on top and their persistence paid off as Santalab continued his great pre-season form to bridge the gap to 1 goal.
Searching for an equaliser Popovic brought on Nick Olsen, Kwabena Appiah, Jake McGing, Jason Trifiro, Labinot Haliti & Tahj Minniecon. Again the chances failed to halt the visitors momentum as Haliti & Mooy both crafted chances, and a final bullet shot from Santalab was saved magnificently by the Tokyo keeper.
Despite piling on the pressure the game ended in defeat. On the positive side it appears there were no injuries from the entire tour, everyone was given game time and even with the loss the pre-season tour appears to be a complete success. The squad will return to Australian in the next couple of days.
The Wanderers next scheduled match is against Adelaide United on Sunday September 22 at Penrith Stadium with a 2pm kick-off time.