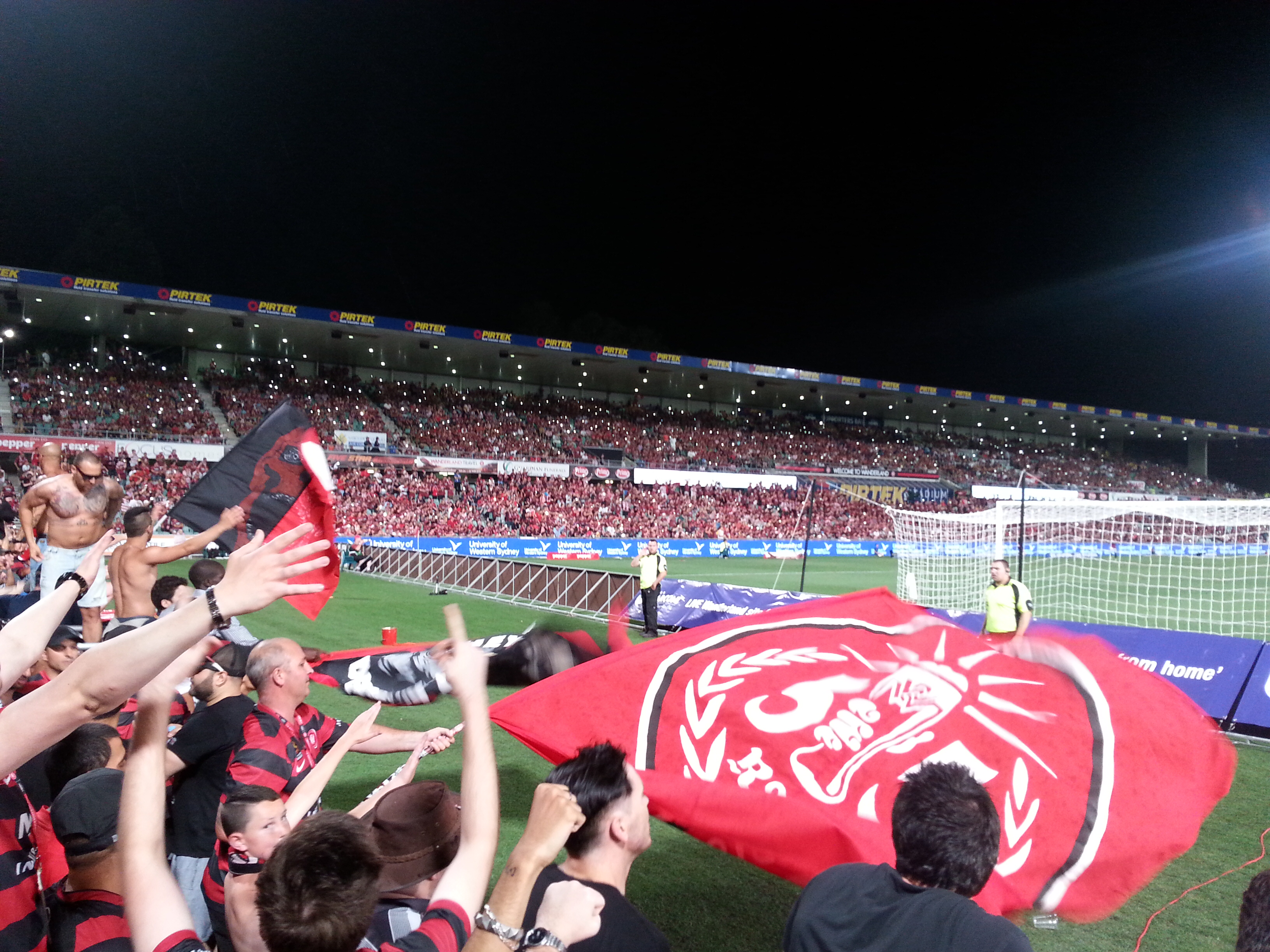 A wondergoal from Tomi Juric & Youssouf Hersi rounding off a fine team attack secured a 2-0 win against the Central Coast Mariners.
Western Sydney came into the match lacking several key players. Mark Bridge, Aaron Mooy, Brendon Santalab were all out of the team due to nagging injury. Tomi Juric the key return for the Wanderers, Tahj Minniecon was elevated to the starting lineup with Kwabena Appiah & Jason Trifiro coming onto the bench.
The key moment of the game came after 20 minutes when two deflections were ended with a world class goal. A Hersi cross deflected into the path of Iacopo La Rocca, the Italian midfielder tried to curl his snapshot but that also deflected off a Central Coast defender. The ball looped into the air in the path of Juric, who instantly turned and fired a jumping side volley past the stranded Liam Reddy.
The best chance of the game for the Central Coast fell to Marcos Flores in the 25th minute. A cross to the far post found Mile Sterjovski who got around Jerome Polenz. Ante Covic rushed out to attempt to smother only for the ball to fall to Flores. The out of form playmaker couldn't bury the chance, as his tame effort ran along the ground only as far as Matthew Spiranovic who cleared the ball off the line.
Western Sydney punished the Mariners for their failure to score minutes later, La Rocca ignored the offside run of Hersi to find Shinji Ono lurking on the wing, the Japanese international ran onto the ball and delivered a low cross along the 6 yard box, with Hersi played on by Ono no Mariner defenders were able to impose on Hersi who stabbed the ball over Reddy.
Central Coast had little answer to the Wanderers domination, the few chances the Mariners created they weren't able to finish and they were punished for their inadequacy. If Tomi Juric can stay fit he will force his way into the Australian national team picture for the World Cup and so will Matthew Spiranovic who could be the answer to the long suffering question of a natural ball playing central defender. The three points puts the Wanderers only 2 points behind league leaders the Brisbane Roar, and gives the Red & Black a 4 point gap over the chasing pack of Melbourne Victory, Newcastle & Sydney FC.
The Wanderers next match is Saturday the 28th of December against the Melbourne Victory at AAMI Park.
Follow the @WestSydney twitter page and our Facebook Page for A-League news & discussion.